[EP] Ragz – "Full Moon" The EP ft. Sugar boy
Nigerian born artist popularly known as "Ragz BABARIGA" release his highly anticipated EP titled "FULL MOON". The body of work consists of 6 tracks with just one feature on it.
See Full Moon EP Tracklist below!!!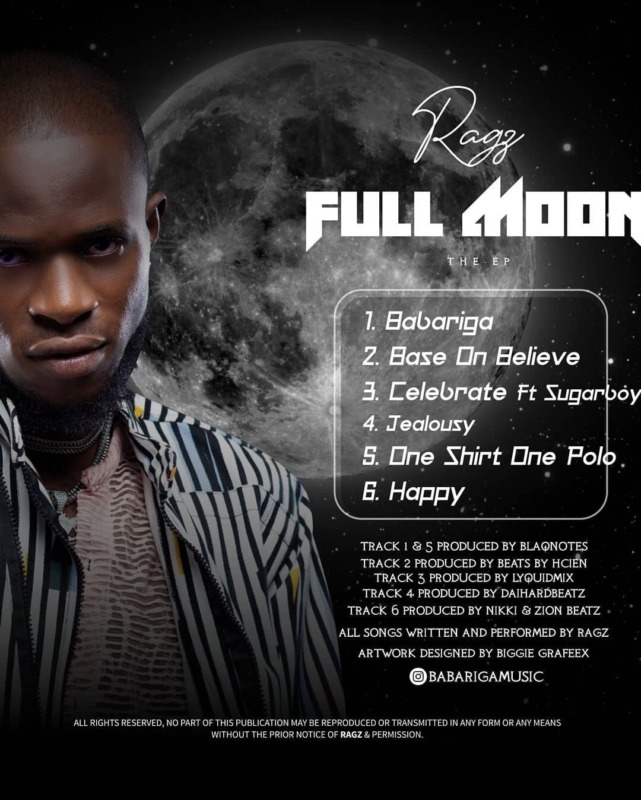 E.P title: FULL MOON … Listen and Enjoy!
DOWNLOAD EACH TRACK BELOW
Track 1 : Babariga || DOWNLOAD MP3
Track 2: Base On Believe || DOWNLOAD MP3
Track 3: Celebrate feat. Sugar boy || DOWNLOAD MP3
Track 4: Jealousy || DOWNLOAD MP3
Track 5 : One Shirt One Polo || DOWNLOAD MP3
Track 6: Happy || DOWNLOAD MP3
Follow Ragz BABARIGA on all social media functions..
@Babarigamusic on Instagram @Ragzbabariga on Twitter
YouTube/Facebook- Ragz babariga