Tokyo Olympics: Sifan Hassan wins 5,000m gold, Simone Biles to return, cycling starts
Sifan Hassan won the women's 5,000m gold to seal the first part of her attempt at an unprecedented Olympic treble and Simone Biles' gymnastics return was announced on day 10 in Tokyo.
Dutchwoman Hassan surged away on the last lap to win in 14 minutes 36.79 seconds and her victory came just hours after she had recovered from a slip in the heats for the 1500m, an event in which she is chasing a medal along with the 10,000m.
Jasmine Camacho-Quinn had earlier won an emotional first athletics gold for Puerto Rico, while Kenya's 37-year stranglehold on the men's 3,000m steeplechase came to an end with gold for Morocco's Soufiane el Bakkali.
There was also an upset in the women's football where world champions the United States lost 1-0 to Canada in the semi-finals.
China took the first title in the track cycling at the velodrome, where – after so many days of empty areas – there were fans in attendance. A 50% capacity of up to 1,800 is allowed as the venue is outside Tokyo, where stricter Covid-19 rules apply.
They witnessed a bizarre crash when Australian Alexander Porter's handlebars suddenly snapped off, throwing him forwards at speed on to the floor, with the rider escaping largely unhurt.
There was a malfunction of a different kind in the shooting, where Ukraine's Serhiy Kulish was distracted by the button on his jacket undoing and fired at a rival's target instead.
Meanwhile, New Zealand's Laurel Hubbard made Olympic history, becoming the first openly transgender athlete to compete at a Games in a different gender category to the one in which they were born.
Hubbard, however, failed to record a successful lift in the women's +87kg weightlifting.
Hassan shines and Puerto Rico celebrate first athletics gold
It was a wet evening at the Olympic stadium, where the discus final and pole vault qualifying were paused during torrential rain, but it did not stop Hassan as she sat back in the pack before launching a last-lap burst to take a convincing gold in the 5,000m.
That is the only event of the three she has entered where she is not the reigning world champion.
She was fortunate to recover earlier in the day after falling during the 1500m heats, saying she had been tired from her exploits after she got up quickly to overtake several athletes to win the heat.
"Without coffee I would never be Olympic champion. I needed all the caffeine!" she said.
Earlier in the day, Puerto Rico won their first ever track and field gold as Camacho-Quinn cruised to victory in the women's 100m hurdles.
The 24-year-old is only the second athlete from the US territory to win an Olympic gold medal, after Monica Puig in the women's tennis singles in 2016.
Greek long jumper Miltiadis Tentoglou provided another first – his country's first gold in the event – sealing the title with his final attempt of 8.41m having been outside the medal positions before that. Juan Miguel Echevarria took silver and fellow Cuban Maykel Masso got bronze.
But there was disappointment for Jamaica's 100m bronze medallist Shericka Jackson, who failed to reach the women's 200m semi-finals after finishing fourth in her heat having eased up metres before the line, and for South Africa's defending 400m champion Wayde van Niekerk, who was eliminated in the semi-finals of his event.
And there was a surprise in the men's 3,000m steeplechase where Kenya, who were going for their 10th title in a row, could only win bronze as El Bakkali – who was fourth at Rio 2016 – surged in the final lap to win in 8:08.90 ahead of Ethiopian Lamecha Girma.
In the women's discus, American Valarie Allman won gold with an effort of 68.98m.
USA miss out on football final again
The USA arrived in Tokyo favourites for the gold medal in the women's football but they have now failed to qualify for the final for the second successive Games.
They were beaten 1-0 by Canada, with Jessie Fleming scoring the winner from the penalty spot after substitute Deanne Rose was fouled by Tierna Davidson.
Canada will face Sweden in Friday's gold medal match, while the USA will battle for bronze on Thursday against Australia.
Biles to return as Carey wins floor in her absence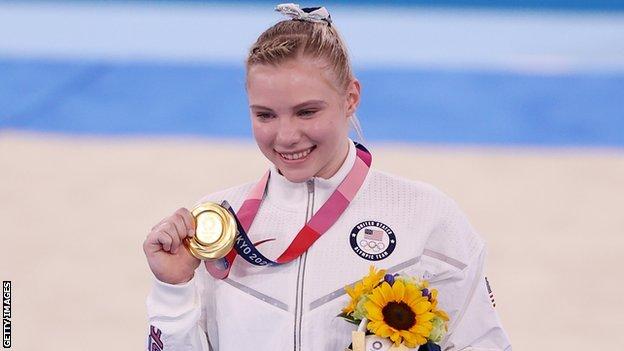 Pre-Games favourite Simone Biles, who has missed four individual finals while she protects her mental health, was on Monday named in the start list for Tuesday's beam final.
That event is the American's final chance of an individual medal at these Olympics, where her absence has given others an opportunity to shine while she has cheered them on from the stands.
Her team-mate Jade Carey won the floor gold on Monday with her slick and well executed routine impressing the judges in the Ariake Arena.
The 21-year-old's score of 14.366 narrowly beat Italian veteran Vanessa Ferrari into second, who won her first Olympic medal at the fourth time of asking.
There was a tie for the bronze medal between Japan's Mai Murakami and Angelina Melnikova of the Russian Olympic Committee.
China's Liu Yang performed a confident routine to win gold on the rings, with You Hao completing a one-two for China.
Greece's Eleftherios Petrounias, the defending champion from Rio 2016, took the bronze after he landed heavily on his knees.
South Korea's Shin Jea-hwan won the men's vault gold, with Russian Denis Abliazin taking silver and Armenia's Artur Davtyan getting the bronze.
Broken records & snapped handlebars on day one in velodrome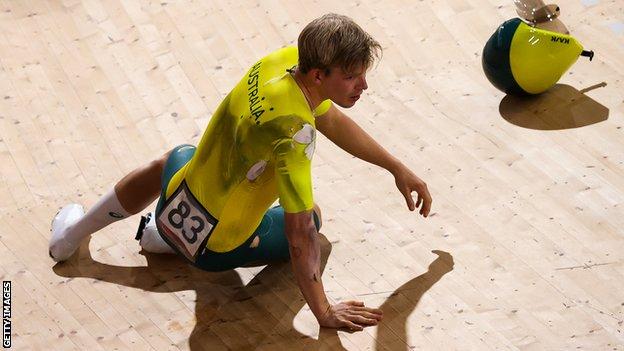 China's women picked up the first gold medal in the Izu Olympic velodrome, edging out Germany in the team sprint final.
The gold medallists, who had broken their own world record in the heats, won with a time of 31.895 seconds.
In the team pursuit heats, Germany also smashed a world record during their Olympic qualifying session, crossing the line in a time of 4:07:307 seconds.
That surpassed the previous record set by Great Britain at Rio 2016 by nearly three seconds.
In the men's team pursuit heats, Australian Alexander Porter had a huge shock when his handlebars snapped off, sending him tumbling to the ground in dramatic fashion.
The 25-year-old skidded across the velodrome's wooden floor, picking up scrapes and cuts, after the apparent equipment malfunction.
Olympic history for Hubbard
Transgender athlete Hubbard made Olympic history but failed to record a successful lift in the women's +87kg weightlifting.
The New Zealander became the first openly transgender athlete to compete at a Games in a different gender category to the one in which they were born.
But after a failed attempt to lift 120kg and two failed efforts at 125kg in the snatch, her competition ended.
Hubbard said: "I know that from a sporting perspective I haven't really hit the standards that I put upon myself and perhaps the standards that my country has expected of me.
"But one of the things for which I am profoundly grateful is that the supporters in New Zealand have given me so much and have been beyond astonishing.
Away from the sporting action, politics in focus
A sprinter from Belarus who refused her team's order to fly home early from the Olympics has been granted a humanitarian visa by Poland.
Krystina Timanovskaya, 24, was at the Polish embassy in Tokyo after spending the night secured in a hotel under protection from Japanese police.
She said she was forcibly taken to the airport for criticising coaches, and voiced fears for her safety, while Belarus says she was removed from the team because of her emotional state.
Meanwhile, the International Olympic Committee (IOC) is looking into the gesture American shot putter Raven Saunders made after the silver medallist raised her arms in an X above her head on Sunday.
Saunders said the gesture represented "the intersection of where all people who are oppressed meet."
The IOC relaxed a ban on protests ahead of the Tokyo Games, allowing athletes to "express their views" during news conferences – but political demonstrations are still banned on the medal stand. It is unclear what reprimand Saunders could face, as the IOC has not outlined potential penalties.