Women's History Month; Grammy And The Female Artistes That Made History
Who run the World? Women!
March is International Women's Month, a month to celebrate fabulous women from all walks of life and within all sectors (fashion, politics, education, health, entertainment, and others). We are celebrating women who have made significant strides in making their presence felt in the music industry. Women who were able to flourish with their talents in a male-dominated world. This isn't feminism, but let's be honest, the music industry has always been a male-dominated world. I don't want to spark a much-needed discussion about the struggles female artists face in the industry or the stereotypes usually attached to their careers.
In spite of these, women in the music industry are still winning and are standing as an inspiration to other women. This assertion is in line with the outcome of The Recording Academy Awards (Grammy Awards). In the entertainment industry, there are prestigious international awards given to outstanding persons for their performance. There is the Emmy Awards which is for the Television industry, Oscar Awards for the film industry, Tony Awards for Broadway Theatre and Grammys for the Music industry.
One might be wondering what's the hype with the Grammy Awards and why we are still talking about it, here is why. The Grammy Awards is the most prestigious awards in the music industry. Though we have other awards like The Billboards Awards and World Music Awards, the Grammy is the only one recognized by music creators all over the world. One Grammy win can shoot an artist's career to the next level, make reference to Burna's Grammy Win. Imagine what will happen when Burna Boy/or another person bags 5, 10., 20, or 28 like Beyonce did.
This year's Grammy awards happens to be the most historical one of them all. We saw women like Beyonce and Taylor re-writing history, We saw Blue Ivy breaking records, standing and supporting each other, dedicating awards to those they felt deserved it more. Let's take a deeper Look at these Incredible Women who won Big at 63rd Grammy Awards, From Beyonce and Taylor Swift To Megan Thee Stallion and Billie Eillish. Take a look at the achievements of our Biggest Female Grammy Winners.
Beyonce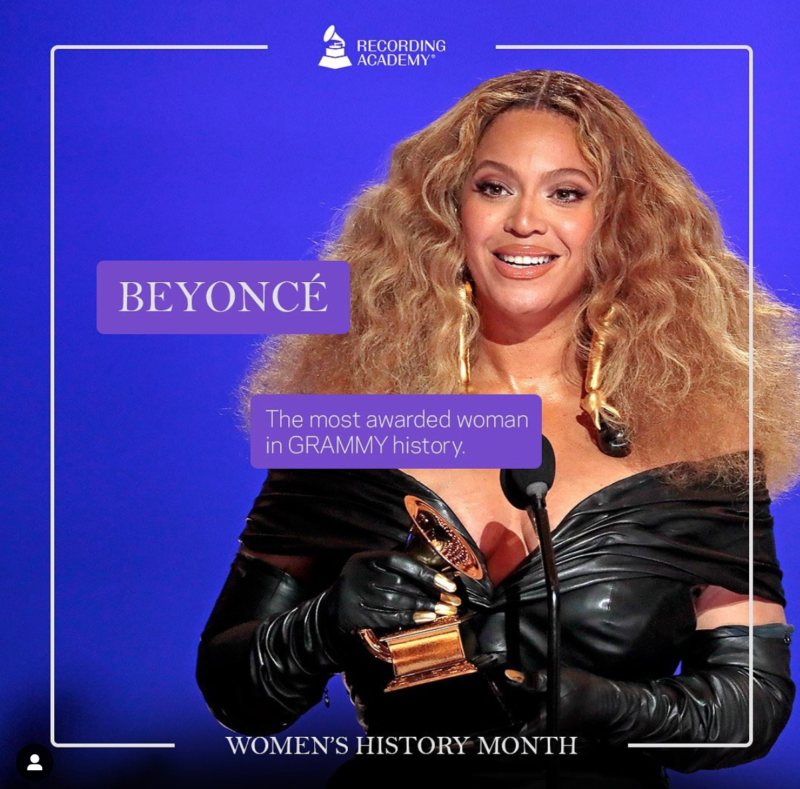 When Beyonce left Destiny Child in 2000, It was destined that she will become R&B's next big thing. Beyonce undeniably is one of the biggest musical sensations in this modern era. How she flows smoothly from R&B, Hip hop, Gospel must be one of the many reasons she keeps bagging awards. Beyonce is a sexy, self-assured icon every girl dreams to be like someday.  With a voice that would put that of angels to shame, She has innocently won the hearts of billions, both home and abroad.
Clearly representing what a Creative should be like, Beyonce is a Songstress, an actress,  songwriter, producer, and also a fashion icon. For Millennials who might claim not to know this Queen, you should remember her as a singer who was nominated 79 times and has 28 Grammy Awards on her shelf. Beyonce might not be Ella Fitzgerald, who won the first Grammy in 1958, but Beyonce is the most nominated and awarded woman in Grammy's history. When she was nominated nine-times at the 63rd Grammy Ceremony, many didn't know she was going to set a record. She won four of her nine nominations, bringing her Grammy wins total to 28, breaking the previous record of Country singer, Alison Krauss who has 27 wins.
Not discrediting the fact that Queen Bey has effortlessly won 28 Grammy Awards in different categories, it's just surprising that she's yet to get any wins in two of the biggest Grammy categories, Record of the Year and Album of the Year. But with her victory in other big categories like Song of the Year,  Best Contemporary R&B Album (three times), Best Urban Contemporary Album (twice), Best Music Video, Beyonce is definitely a pacesetter.
Beyonce is the first solo artist to have six albums hit and debut at No.1 on the Billboard 200 Chart. Queen Bey is the first Black woman to headline Coachella in 2018, For those who follow the Coachella Festival online, you will know this is a big beal for any artist She founded her own Record label "Parkwood Entertainment" in  2017 and has helped in making the voices of upcoming female artists heard. If you think Beyonce is impressive enough, what will you say about her daughter, Blue Ivy?
Blue Ivy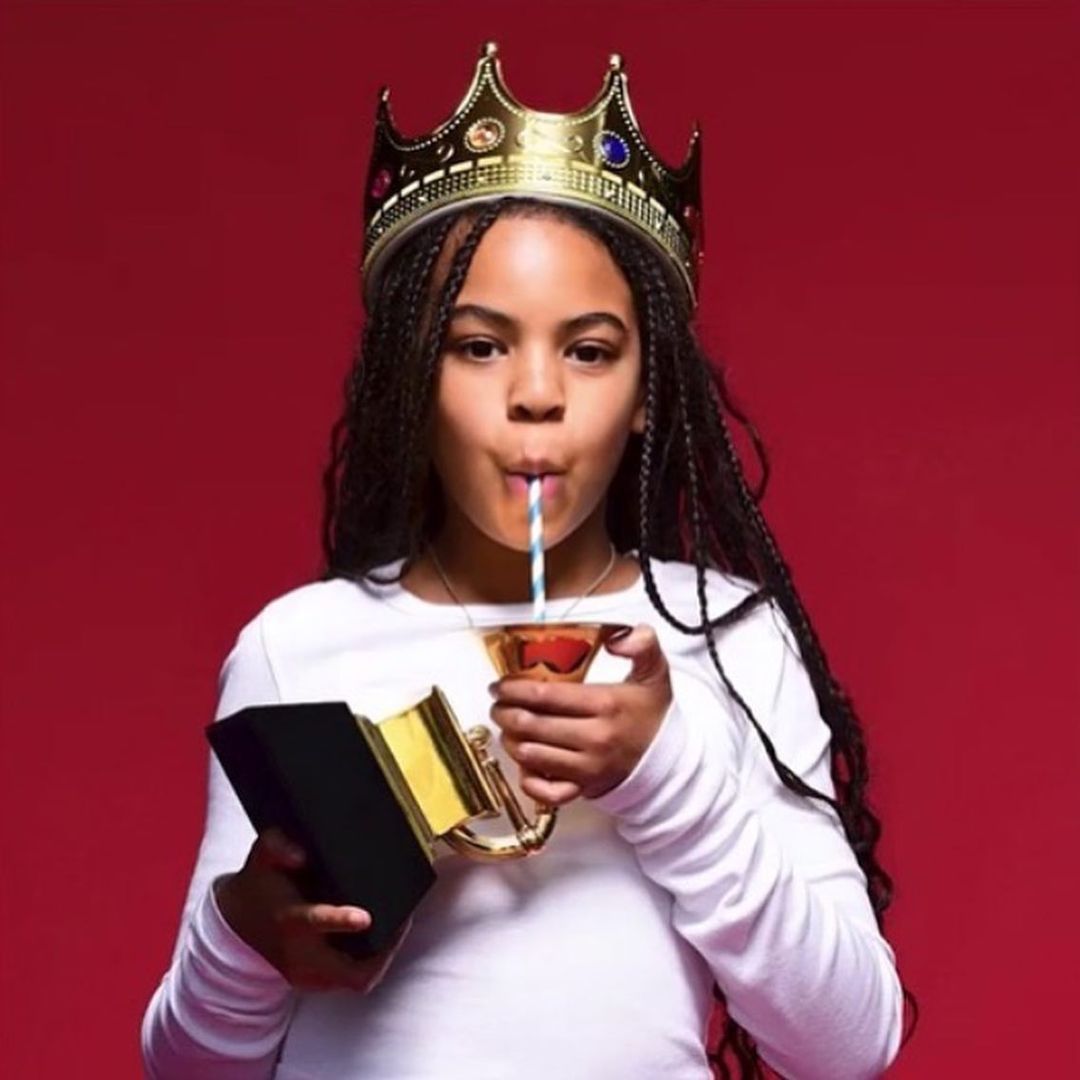 Like mother, like daughter, they say. At the young age of Nine, Blue Ivy Carter is out there snagging trophies. She won a golden Gramophone for her songwriting skills on her mother's song, "Brown Skin Girl" which won in the Best Music video category. The song featured Wizkid, Saint JHN, and herself.  Blue Ivy has proven that talent indeed, runs in the Carter family. For Those criticizing the youngster for sipping juice from her grammy, if you were in her position which you are not, you would have done the same.
Like her mother, she made history by being the second youngest Grammy winner. The first and the youngest is Leah Peasall, who at 8 years old won at the 2002 ceremony for her work on the soundtrack to the film "O Brother, Where Art Thou?" which won album of the year. However, Blue Ivy is the first youngest black person to bag a Grammy Award at the young age of 9. This isn't Blue Ivy's first award for Brown Skin Girl, she won NAACP Image Award for Outstanding Duo or Group, BET Her Award, Soul Train Music Award for Video of the Year, and Soul Train Music Awards: The Ashford & Simpson Songwriter's Award. Blue Ivy's career is off to a good start and we wish her nothing but the best.
Taylor Swift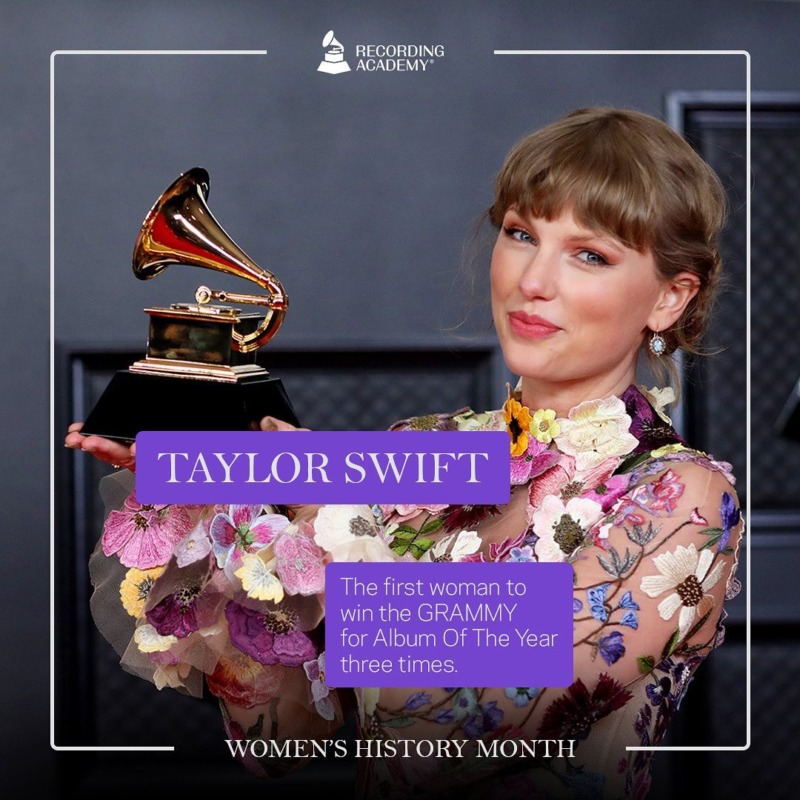 At a time when female artists like Beyonce and Alison Krauss are racking  28th Grammy Awards from different categories, Taylor Swift has effortlessly won three times in the biggest category they lost out of many times. Taylor Swift is certainly a regular at the Recording Academy. In 2009, She made her Grammy Performance Debut at the 51st Grammy Awards performing "Fifteen" With Miley Cyrus.
Tay Tay must be doing something right to have been nominated 41 times at the Grammy Awards and winning 11 Grammys with her love-themed songs. There's no solo artist with a more successful music career than Taylor Swift at moment, maybe after the 64th Grammy Awards, we might see another one. Just like the Big dogs on this list, Taylor broke the Grammy Record after She won Album of the Year three times. Though, the misinformation on the part of the Recording Academy made everyone believe that Coldplay had won Album of the year and not Taylor Swift. This didn't hinder Taylor from going home with the Award, if anything, it made the surprise a pleasant one.
Swift has always been a pacesetter. In 2015, she became the youngest winner of the Album of the Year Award for "Fearless" at the age of 20. When Billie Eillish won it in 2020 at the age of 18, Taylor became the second youngest. In 2016, She became the first woman to win Album of the year more than once for her "1989".  In 2021,  She added another Grammy to her Award Collections. Taylor Swift became the first woman to win Album of the year three times with her Folklore Album.
Swift might be the fourth artist to have won this, one fact still stands that no woman in the History of the Grammys has ever achieved this great feat, not even Queen Beyonce. Many might be wondering why Taylor's Album of the year Awards created such a big buzz. In the Recording Academy, the Album of the year is the highest award ever. When an artist wins this award, everyone who contributed to that album gets either a golden gramophone or a grammy Certificate depending on their level of participation. And for Taylor to have won this thrice, she's a model young girls should look up to. Personally, I feel Taylor Swift is the biggest Female Winner in the history of the Grammys.
Megan Thee Stallion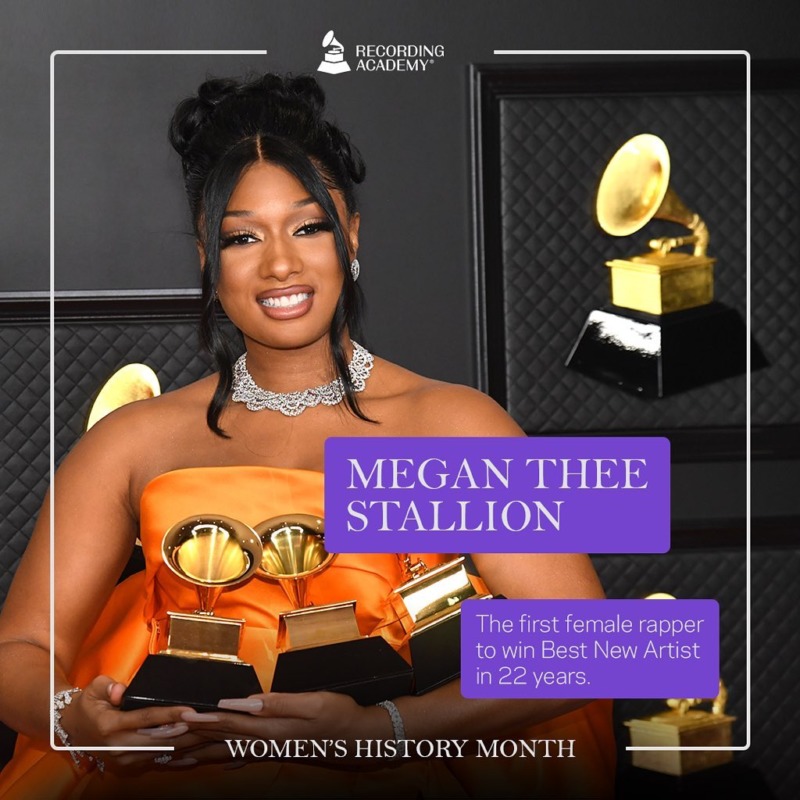 She's savage, Classy, bougie and a Grammy Winner……. 
When thinking of the Future of America Rap, It's better you look at Megan Thee Stallion. Megan has been in the music business for a while, but it's understandable to assume that she just came into the scene in 2019. Hate to admit, Megan the Stallion garnered attention when her 2019 Hit Jam, Hot Girl Summer Featuring Nicki Minaj and TY Dolla $ign, was released. Born Megan Jovon Ruth Pete, Megan Thee Stallion is an American Rapper, Singer, and songwriter who has been making waves in her genre of music, rap.
We have seen Megan over the years drop banging tunes with the likes of other rappers like Nicki Minaj, Cardi B but it's her Savage Remix with Queen of R&B Beyonce, that snagged her 2, let's just say 3 Grammy Awards out of four nominations. Impressive.
Megan won out of the "Big Four" categories of the Grammy Awards. She won the Best New Artist knocking out her fellow nominees Ingrid Andress, Phoebe Bridgers, Chika, Noah Cyrus, D Smoke, Doja Cat, and Kaytranada. She was accompanied by Beyonce to collect her second Golden Gramophone for winning Best Rap Performance for her "Savage Remix". That's not all, She won Best Rap Song of The Year for Savage Remix. Though she lost the Record of the Year to Billie Eilish, fans weren't angry.
According to the rapper, she once said in an interview: "I don't make my music in hopes of getting awards and topping charts and beating other people. Things like that don't matter to me, I make music that I really like and that I really enjoy and that I know that my Hotties are gonna enjoy." She wasn't far from the truth, fans all over the world have testified that Megan has no bad song.
A three-time Grammy winner, Megan thee Stallion became the first female rapper to win The Best New Artist Since Lauryn Hill in 1999. Megan thee Stallion has always been an inspiration to a generation of women with her confidence and sublime talents.  With her latest achievements, Megan is officially one of the most famous and respected rap stars in the world. Cheers to her success.
Billie Eilish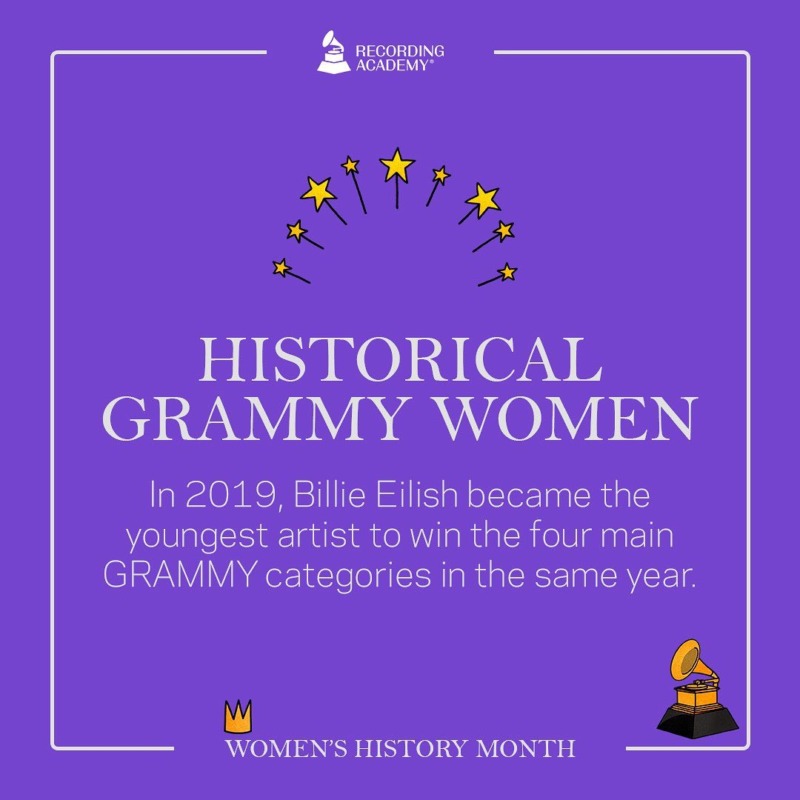 If you predicted 2020 Best New Artist, Billie Eilish was going to win another grammy at the 63rd Grammy Awards, your prediction is correct. Best know for her slow, mysterious, electronic dark pop, Billie has been bringing a unique flavor to the music since she came into the spotlight in 2015.
I am still amazed at how Billie has lured fans with her unsettling songs, dark lyrics, her talk about depression, bad boys, and suicidal thoughts. Or maybe it's her husky, slurring voice, lazy love songs that earned her a spot as one of the fans' favorite. Just Like Megan the Stallion, Billie has no Bad Songs and 7 Grammy Awards.
At the 62nd Grammy Awards, Billie Eilish Made history when she won the Big Four categories: Album of the Year, Record of the Year, Song of the year, and Best New Artist at the age of 18. Though she lost out on Pop Solo Performance of the Year, she consoled herself with pop Vocal Album Award.
This year, Eilish decided to smash her record. For the second year, Billie Eilish won the Grammy for Record of the year: "Everything I Wanted" out of her four Grammy nominations for 2021. She also won the award for the Song Written For Visual Media for "No Time to Die". At the young age of 19, Billie owns Seven Grammy Plaques and is seriously prepping to add to her collection.
H.E.R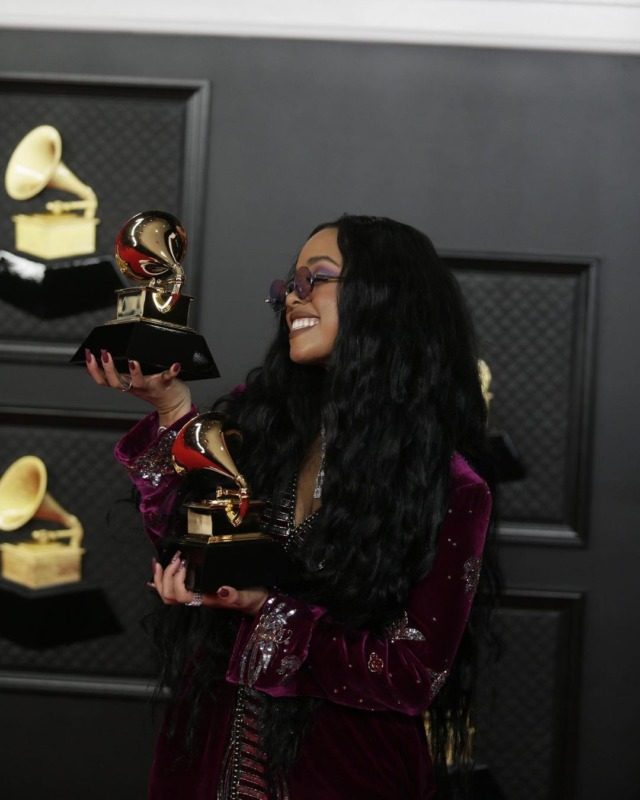 Born Gabriella Sarmiento Wilson, H.E.R, which stands for Having Everything Revealed, has redefined the typical structure of American music. Her protest Song, 'I Can't Breathe' touched the hearts of many who could relate to the singer's pain.
'I Can't Breathe' Track was inspired by the killings of George Floyd and Breonna Taylor at the hands of police. It was a huge surprise when the song got nominated for the song of the year. According to Los Angeles Times, " 'I Can't Breathe' never cracked the Billboard Hot 100, but Grammy voters chose it in a surprise over the better-known songs of her category peers".
When H.E.R won her second Grammy, Song of the Year award for 'I Can't Breathe' she couldn't contain her joy. Don't get this wrong, H.E.R is no stranger to Grammy Awards. She has 15 Grammy nominations and 4 Grammy Wins. H.E.R. won Grammys for R&B performance and R&B album in 2019. Well, No Grammy in 2020, but in 2021, she won the Best R&B Song for "Better Than I Imagined" and Song of the year.
See Below Other Women That Made History At The Grammys